By Ashley Hunn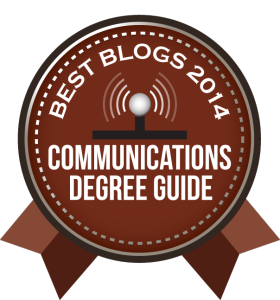 Communications is an exciting field and, not surprisingly, one of the top ten college majors in the United States. Careers in communications include advertising, public relations, journalism, and film & television. In today's business world, it is vital to build and maintain relationships with customers, employees, and communities. One of the best ways to learn and know more about this ever-evolving field is to read blogs written by communications and PR professionals. Whether deciding on a specific career path or looking for job tips and training, communications blogs are a great resource for anyone. Listed below are thirty of the top blogs in the communications industry. These blogs were selected based on their popularity (or their associated organization/agency) on social media, i.e., number of Facebook likes and/or Twitter followers. They offer a variety of perspectives and have been grouped by type: organizational, agency, or personal.
Organizational Blogs
1. Ragan's PR Daily
Facebook Likes: 57.2K
Twitter Followers: 58.9K
A division of Lawrence Ragan Communications, Inc., PR Daily is a daily news site that delivers news, advice, and opinions on public relations, marketing, social media, and media.
Highlight: How to Keep Up With Social Media in 10 Minutes a Day
2. The PR News Blog
Facebook Likes: 38K
Twitter Followers: 132K
The public relations professional's resource for ideas, strategies, and tools to maximize communications and social media efforts.
Highlight: 3 PR Lessons from the Ice Bucket Challenge
3. Beyond PR
Facebook Likes: 24K
Twitter Followers: 88.4K
Beyond PR is a collection of voices from across PR Newswire's worldwide organization. Topics include public relations, investor relations, social media, search engine optimization (SEO), content marketing, and corporate social responsibility.
Highlight: 12 Tips for Keeping Control in Front of the Media
4. ComPRehension
Facebook Likes: 27K
Twitter Followers: 70K
ComPRhension is the blog for the Public Relations Society of America (PRSA), the world's largest organization for public relations professionals. This is a great place to get connected with expert insight from PRSA members.
Highlight: The End of the Press Release
5. PR Newser
Facebook Likes: 4.3K
Twitter Followers: 37.5K
Mediabistro.com's PRNewser covers news and issues for and about the PR industry. The blog is constantly updated, and topics include news, pop culture, events, research, and jobs.
Highlight: AT&T's 'It Can Wait'
6. Flack Me
Twitter Followers: 38.6K
Powered by TravelZoo, this no-frills PR professionals' blog covers the latest in PR news and practices.
Highlight: PR Remains Foremost Because Relationships Come First
7. The Hub
Facebook Likes: 374
Twitter Followers: 1.1K
The Hub aims to be the premier resource for news, reviews, tips, and tools for marketing technology.
Highlight: 6 Essential Components of a Successful B2B Marketing Program
Agency Blogs
8. 6 A.M.
Facebook Likes: 41.1K
Twitter Followers: 50.8K
President and CEO of the world's largest public relations firm, Richard Edelman discusses trends in communications, as well as issues, lessons, and insights.
Highlight: The Summer Job
9. Ketchum Blog
Facebook Likes: 13.3K
Twitter Followers: 35.4K
Ketchum's agency blog allows colleagues from around the world share their thoughts and ideas on everything from public relations to social media to crisis communications to marketing. Read up on a wide range of topics from a varied pool of communications professionals.
Highlight: Bursting Bubbles
10. Meltwater PR Blog
Facebook Likes: 9.2K
Twitter Followers: 10.9K
This reader-friendly blog from Meltwater covers a wide range of communications solutions, including public relations and social media marketing.
Highlight: Social Media & Public Relations: Which is Which?
11. SHIFT Blog
Facebook Likes: 8.3K
Twitter Followers: 14.8K
Integrated communications agency SHIFT examines emerging news and trends in the industry.
Highlight: Fix (or Establish) Your Brand Reputation
12. Spin Sucks
Facebook Likes: 5.1K
Twitter Followers: 14K
Spin Sucks is the agency blog of Arment Dietrich, a Chicago-based integrated marketing communications firm. It covers the latest trends, hottest topics, and analysis on events from the worlds of PR, digital marketing, communications, and social media.
Highlight: The Squishy Grey Line of Ethics
13. The Buzz Bin
Facebook Likes: 751
Twitter Followers: 3.1K
The Buzz Bin features thoughts and analysis on marketing, buzz, and communications from public relations firm PadillaCRT.
Highlight: 3 Ways PR Pros can Help Journalists
14. MaccaPR
Facebook Likes: 346
Twitter Followers: 2.8K
MaccaPR is a blog from Minneapolis-based Maccabee, a strategic public relations and online marketing agency.
Highlight: R.I.P. for PR Spin
15. Millennial Marketing
Facebook Likes: 407
Twitter Followers: 1.9K
In this blog, Millennial Marketing's team of contributors provides fresh insight and commentary on the latest Millennial trends.
Highlight: Millennial Marketing Lessons from Jimmy Fallon
16. Flacklife
Facebook Likes: 116
Twitter Followers: 3.5K
Principal consultant Bob LeDrew offers clear communications advice on Flacklife, the blog for Translucid Communications.
Highlight: There's a Difference Between a News Hook and NewsJacking
17. Beyond the Hype
Facebook Likes: 926
Twitter Followers: 1.8K
Lois Paul and Partners use this blog as a vehicle to discuss the right way to do public relations. Communications experts share their opinions, insights, and experiences in PR.
Highlight: The Power of No
18. Stevens Strategic Communications Blog
Facebook Likes: 84
Twitter Followers: 1.1K
One of the top public relations and marketing communications firms in the Cleveland area, Stevens Strategic Communications covers numerous facets of the communications industry in this blog.
Highlight: Running a Public Relations Firm
Personal Blogs
19. Peter Shankman
Facebook Likes: 141.8K
Twitter Followers: 164K
Author, entrepreneur, and speaker Peter Shankman is well-known for his innovative thinking about customer service, social media, PR, marketing, and advertising. Take a peek at his candid blog where he questions everything.
Highlight: Five Business Lessons from my Daughter's First Birthday Party
20. The Influential Marketing Blog
Facebook Likes: 6.5K
Twitter Followers: 32.2K
Branding expert and best-selling author Rohit Bhargava's blog features reflections on creating compelling marketing, advertising, and public relations strategies.
Highlight: 5 Signs Apple's Era of Dominance is Over
21. The Future Buzz
Facebook Likes: 6.5K
Twitter Followers: 16.9K
Run by Googler Adam Singer, The Future Buzz is a popular eye-catching digital marketing blog. There's something here for every communications specialist.
Highlight: How to be the Jack Bauer of Your Company
22. Dave Fleet
Facebook Likes: 245
Twitter Followers: 18K
An award-winning communications professional, Dave Fleet discusses the areas where communications, public relations, marketing, and social media intersect.
Highlight: 15 Top Tips for a Successful PR Career
23. prTini
Facebook Likes: 193
Twitter Followers: 17K
Displaying a fun and simple approach to the world of communication, Heather Whaling shares her thoughts on how to deliver PR, social media, and marketing results.
Highlight:New Tools PR Pros Need to Discover
24. Communications Conversations
Twitter Followers: 15.2K
An award-winning communicator and marketer, Arik C. Hanson shares his nearly 20 years of experience in marketing, communications, and PR in this popular PR and digital marketing blog.
Highlight: How to Impress Your New Client in the First 30 Days
25. Bad Pitch Blog
Twitter Followers: 12.2K
Created and written by Kevin Dugan and Richard Laermer, the Bad Pitch Blog offers their opinions on marketing, media, and more.
Highlight: Headline Clickbait: PR Science or PR Fail?
26. PR in Your Pajamas
Facebook Likes: 4K
Twitter Followers: 9.4K
Industry veteran Elena Verlee aims to help educate her readers and share her knowledge of communications in this light-hearted blog.
Highlight: The Art of Storytelling in PR
27. PR Communications
Facebook Likes: 39
Twitter Followers: 9.8K
PR Communications is the blog of author John Cass. He writes about marketing, PR, and the web in a straightforward approach.
Highlight: Five Tips on Writing Good Content
28. The Flack
Twitter Followers: 7K
Peter Himler aims to highlight the role of public relations in politics, popular culture, journalism, business/finance, entertainment, technology, consumer marketing and sports.
Highlight: Shocking Stories from the PR Trenches
29. Sword and the Script
Facebook Likes: 1.5K
Twitter Followers: 5.3K
With the goal of studying and learning, PR professional Frank Strong comments on anything related to marketing, PR, and social media.
Highlight: Content Marketing *is* PR
30. PR Breakfast Club
Facebook Likes: 2.4K
A collaborative blog where members share their personal thoughts and experiences on all areas of PR and social media.
Highlight: What U.S. Presidents Have Taught us about PR and Reputation Management
About the Author:
Ashley Hunn is a freelance writer and stay-at-home mom of four. Armed with a communications degree from Boston University, she gained real-world experience as a public affairs officer handling internal, community, and media relations in the Air Force. A former captain, she went from leading the troops to raising her own. In her spare time, she enjoys reading and watching reality TV.